Home > Collections & Resources > Technology
Technology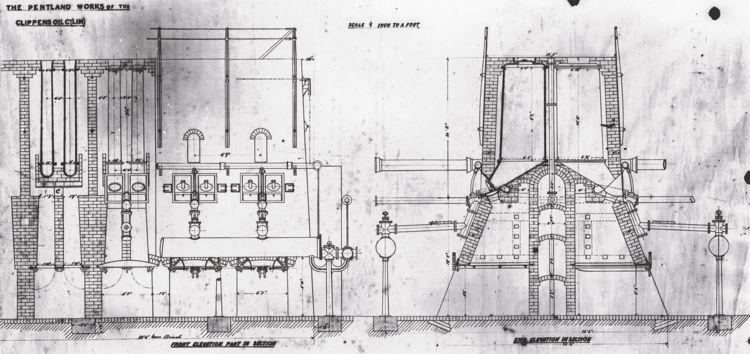 Technical drawing of retorts for the Clippens Oil Company Ltd c.1882
Three major processes were required to transform oil-shale into oil products. Firstly the shale was mined from beneath the ground and transported to an oil works. Secondly the shale has heated within a retort to release crude oil and other products. Thirdly the crude oil was transported to a refinery where it was processed into a variety of oil products.
The mining of oil shale generally followed similar practice to coal mining in Scotland, whilst the refining of crude oil drew on well-established chemical techniques such as distillation and chemical washes. The central process however; the release of crude oil by the retorting of oil shale, was unique to the shale oil industry; and was a technology in which Scotland led the world for many years. To a large extent, the progress of the shale oil industry was driven by improvement in the design of retorts to give increased production of crude oil and ammonium sulphate while minimising the need for external fuel to sustain the process.
For those seeking a quick introduction to the technology of the shale oil industry we present:
For more in-depth information of the processes and practices of the industry, there is a wide range of technical treatises published while the industry was active. These include the Geological Survey memoirs "Oil-Shales of the Lothians", which includes a section on the working of oil-shales authored by W. Caldwell, Mining Manager of the Pumpherston Oil Company, and an account of the chemistry of oil shales by D.R. Steuart, Chief Chemist of the Broxburn Oil Company. The later includes a detailed account of the evolution of the shale retort.
The first edition and the second edition of Oil-Shales of the Lothians are available online from www.archive.org. The third edition is available as a pdf on this website.