The Gazetteer pages
The Gazetteer section aims to bring together information on all locations associated with the shale and coal oil industries in Scotland, and map the sites on the modern landscape.

Sites are currently listed under the following headings:
Oil Works and Refineries. All sites in Scotland where crude oil was produced from oil-shale or coal-shale, and all significant sites where this crude oil was refined into oil products
Pits, Mines and Quarries. All sites in Scotland where oil-shale was worked; also sites within the shale-fields where coal was worked in association with oil-shale, or by oil-shale companies.
Company Housing and Villages. All sites within the Lothians and Burntisland shale-field where oil companies constructed or owned housing for their workforce
In the future it is is hoped to extend coverage of the mining section to all sites in Scotland where coal-shales were worked for oil production. This is likely to be a challenging task as coal-shale was often worked alongside common coal, ironstone, or fireclay making the identification of individual mine sites a difficult task. Similar challenges will be faced in identifying any housing built exclusively for oil workers with the coal districts.
At a future date we also aim to list commercial property , such as sales offices and distribution depots, that was owned or leased by the shale oil companies.
Challenges and Frustrations
Ordnance Survey maps
Many sites associated with the oil industry failed to survive long enough to appear on Ordnance Survey maps, and consequently it is often difficult to identify their precise location.
The First Edition O.S. map series, mapped at a scale of 25 inch to the mile, was the first detailed survey to cover much of the inhabited areas of Scotland. Most counties in the central belt of Scotland were surveyed between about 1854 and 1859, at which time when only a handful of oil works existed. These maps were published between 1858 and 1864.
In a few cases it appears that certain First Edition maps were revised and re-printed, and in a rare instances oil works constructed in the early 1860's were recorded. In general however it was not until the 1890's and the Second Edition O.S. map series that much of Scotland was re-surveyed. By that time, the vast majority of the oil works sites that proliferated during the 1860's and 70's had been abandoned and dismantled. In most cases their location can only be guessed from the pattern of bings, abandoned railways and derelict ground marked on later maps.
In many instances workers housing survived far longer than the works and mines that they were built to serve, and remained to be recorded on the Second Edition map series. The mines that served the oil works often had a short working life, but frequently left behind waste tips and old shafts that were marked on later maps. The requirement, since 1872, to deposit abandonment plans on closure of all coal and shale mines has ensure that the location of most workings has been recorded.
Central Scotland was surveyed once again between about 1911 and 1917 for the the Third Edition O.S. map series. Presumably due to the strategic value of the oil industry, some oil works were omitted from some 25" Second and Third edition sheets which often showed a suspiciously blank space served by mines and railways.
Changing Names
A lack of clarity and consistency in the names of oil works frequently confuses research. It is was common for a site to be known by a number of names, which often changed during the course of its history. Burngrange Oil Works for instance was also known as Blackbraes Oil works and Bryden's Works during its single year of operation. The similarly short-lived Almondhill Oil Works was also variously referred to as Dundas Oil Works, Kirkliston Oil Works and Carlowrie Oil Works. Matters were particularly confusing in the Broxburn area where at least eight oil works existed in close proximity, and more or less concurrently, all known by a variety of very similar names. The convention adopted by this website is to use the site name that first appeared in valuation roles.
The naming of mines causes even greater confusion. Many mine sites were known by different names and numbers during the course of their history, sometime changing identify during a change of ownership. Many pits were referred to by number alone, and as different companies had their own numbering sequences, this can cause confusion.
Place names used in the early days of the oil industry are sometimes difficult to trace. Certain names have completely disappeared from modern maps as industry closed and population moved away. In other cases the spelling of place names has changed; for example Leavenseat has become Levenseat, Swinehill has become Swinhill.
Changing Boundaries
Census, valuation and legal documents from the Victorian period usually refer to locations in terms of the traditional Scottish system of Counties (or Shires) and Parishes. Changes to names and boundaries often make it difficult to relate sites to current local authority areas.
In the central belt of Scotland, there were few changes in County boundaries during the period in which the shale oil industry was active, other than the expansion or creation of city authorities in Edinburgh and Glasgow. A few name changes took place however; the County of Edinburgh (Edinburghshire) was re-titled Midlothian in 1890, and in 1924 Linlithgowshire became West Lothian. Major boundary changes occurred as part of local government reorganization in 1975, one of the most significant being the transfer of the western area of Midlothian to West Lothian. This included the former shale districts around West Calder, Oakbank and Pumpherston.
Scottish parishes were originally ecclesiastical boundaries and did not always coincide with the boundaries of a county. Some parishes were made up from two or more pieces rather than a single contiguous area and many were subject to boundary change during the Victorian period. Although parish boundaries are marked on large scale ordnance survey maps, these are sometimes faint and ambiguous making it difficult to determine the parish in which a site lies simply by reference to the map.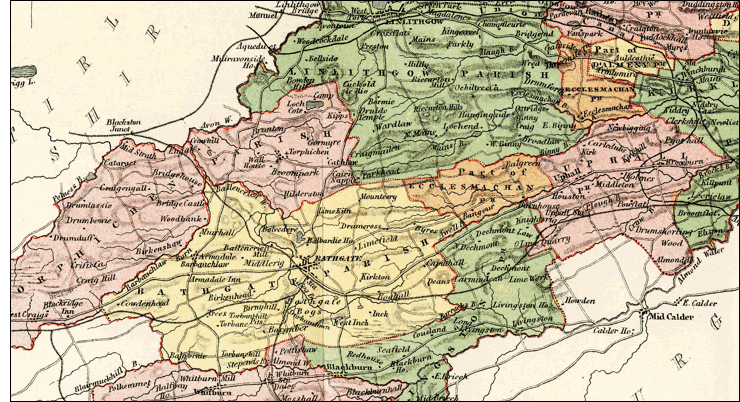 Section of Parish Map of Linlithgowshire, 1885.
Photographic Evidence
No photographic record has survived of the majority of oil works that once existed in Scotland. Although portable cameras were available from the mid-Victorian period, such cumbersome and expensive equipment was inevitable focused on picturesque scenes of city centres, the seaside, or majestic highland glens, rather than mundane scenes of Victorian industry. The earliest known images from the Scottish oil industry date from the 1880's and many of these early views are group photographs which simply feature works or mine buildings as a backdrop.
The rise of the picture postcard during the first decade of the 20th century saw many local scenes recorded and reproduced in bulk by local photographers. Although a few postcards featured oil works, mines and worker's rows, these are inevitably far less common of images of town centres, historic buildings and pleasant countryside scenes. By the 1920's, photography became an increasingly affordable popular hobby. Thousand of snapshots were taken of families, friends, days out and holidays, but seldom did anyone find reason to record everyday views of the landscape of bings, pits and works in which many lived and worked.
Following formation of Scottish Oils Ltd in 1919, increased effort was invested into promoting the sale home-produced oil. The company commissioned professional photographers and cinematographers to record all aspects of the oil production process, producing high quality photographs that were used in promotional pamphlets, albums and other publications. These provide a tremendously valuable record of the best of the industry, but the coverage of such official views is far from comprehensive.
There remains a large number of works, mines, and rows of company housing, (even some that survived into the 1950's) that seem never to have been captured by camera.
Temporary link to Railway pages, currently under construction