Home > Collections & Resources > Histories
Histories of the industry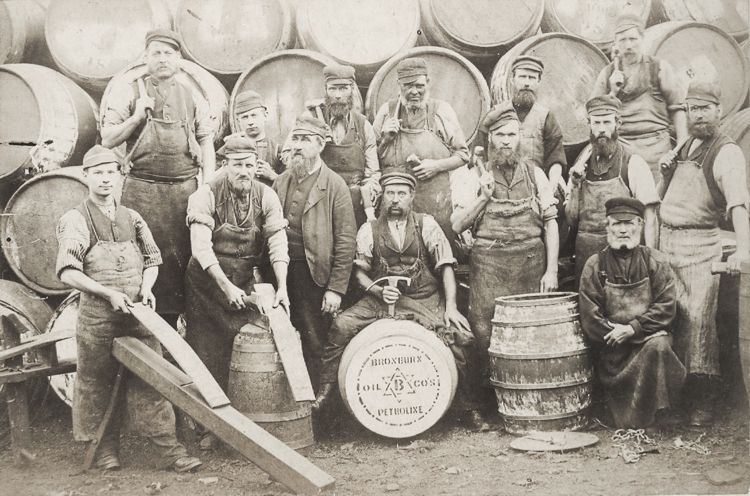 Broxburn coopers
Scotland's shale oil industry operated for more than a century. Its history is a stirring and involved tale of enterprise and invention, triumph and despair, hard labour and strong communities. It remains a source of pride with a continuing legacy. For those seeking a simple introduction to the history of the industry we present:
For others intent in delving more deeply into the story of Scotland's shale, it is often best to consult accounts written while the industry was still active. In A practical treatise on mineral oils and their by-products, published in 1897, Iltyd I. Redwood writes from first hand experience about the evolution of the industry since the days of James Young, and of the many oil business that emerged during the Victorian period. The third edition of Geological Survey memoir Oil-shales of the Lothians contains a chapter on the history of shale oil industry written by H.R.J. Conacher, Manager of Scottish Oils, in 1927. This provides a full and well rounded account of the industry to that date, and has been the major source for many accounts of the industry published in recent years. Various pamphlets published by Scottish Oils Ltd help to extend that history.
Academic studies concerning aspects of the history of Scottish shale include:
"James Young: Scottish Industrialist and Philanthropist"; by John Butt. PhD thesis, University of Glasgow, 1963, which provides a detail account of the man, his times, and the earliest days of the industry, It makes substantial reference to Young's letters and journals.
"The Social History of the Scottish Shale Oil Industry 1850 - 1914" by John Henderson McKay. PhD thesis, Open University, 1984, which studies the rise of the industry and of the communities that served it.
John completed a major development to his thesis shortly before his death in 2012:
"Scotland's First Oil Boom; the Scottish Shale-oil Industry 1851-1914" by John McKay, published by John Donald in 2012
Other recent publications include:
"Shale Oil Scotland: The World's Pioneering Oil Industry" by David Kerr, self-published in 2000. The second edition contains a substantial amount of original research.
"Shale Voices, a Creative Memoir of Scotland's Shale Oil Communities", by Alistair Findlay, published by Luath Press in 2010. A personal view, focussing on the culture of shale communities, making substantial use of our oral history recordings.
"Shale Oil: A History of the Industry in the Lothians", by Guthrie Hutton, published by Stenlake Publishing in 2010. An informative picture book.
"The Scottish Shale Oil Industry & Mineral Railway Lines by Harry Knox, published by Lightmoor Press in 2013.