Home > Companies & Works > Scottish Company Housing
Oil company housing in Scotland

Oakbank Village, c.1910
This section aims to identify and describe all housing constructed or owned by Scottish shale oil companies. It has not yet been extended to coal-oil areas, where coal mining was an established industry and housing was seldom constructed exclusively for oil workers.
Most reserves of oil shale lay beneath rural areas where there were few existing towns to accommodate an influx of incoming workers. Oil companies therefore needed to construct housing for their workforce, often in the shadow of their oil works and mines. Remote from established settlements, these shale villages developed as tight-knit communities with their own special character.
Settlements of temporary wooden huts were sometimes built to house navvies employed in the construction of oil works and mines. At some sites, such as Addiewell and Oakbank, these remained in use for several years.
Permanent housing was inevitable built in "rows", as was the tradition in mining and farming districts throughout Scotland. A row, usually built of brick with a slated roof, would be subdivided into anything from four and twelve homes. Early housing was often quickly and cheaply constructed with many homes consisting of a single room. Sometimes single or double apartment houses were built back-to-back within a row. As the industry developed, two-roomed "through houses" became more usual, with a front parlour and a back kitchen cum bedroom, and doors front and back. At various locations, including Addiewell, Broxburn, Tarbrax and Oakbank, two-roomed houses were constructed in two-storey blocks; the upper house being reached by outside stairs.
In early housing, many residents shared in a dry closet and ash-pit set between the rows, while water was drawn from a common "well" or stand pipe. From about 1900 most new houses were equipped with a sink and flushing toilet fitted within sculleries projecting from the back of each dwelling. Many existing houses were modernised at that time by adding sculleries equipped with the latest amenities. Wash houses were also constructed between the rows, often shared between a number of neighbours.
Housing built to serve new or re-constructed oil works during the prosperous early years of the 20th century continued to be built in rows, but were greatly more spacious and of better quality than previously. Many had gardens, drying greens and attic bedrooms. Following the creation of Scottish Oils Ltd in 1919, some generously dimensioned homes were built at Uphall and Philpstoun, inspired by the Garden City movement.
In many villages, housing was allocated according to rank within the company; spacious rows were provided for foremen, and semi-detached villas for managers.
Much of the early housing, notably in the West Calder area, was poorly constructed and soon deteriorated into insanitary slums. Many of these were demolished during the 1920s and 30's, and their occupants re-homed in new County Council estates. As the industry continued to contract following World War Two, other housing became redundant and was demolished, often leaving green fields where villages once existed.
Scottish Oils Ltd sold off most of their remaining housing stock during the 1960's. Modernised, these continue to provide sound and comfortable homes with a special history.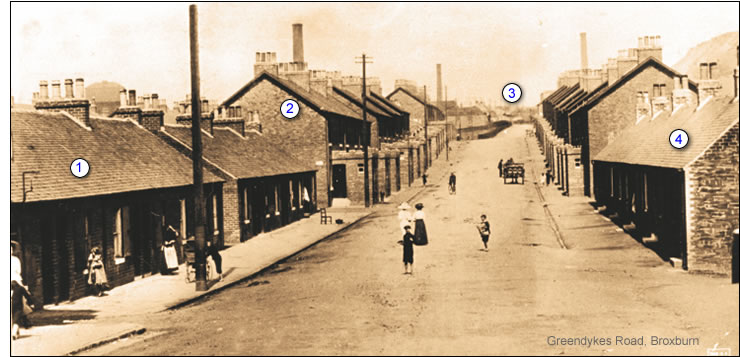 Greendykes Road, Broxburn c.1910, showing examples of different styles of oil company housing.
Bells Rows? Two apartment single storey homes built c.1868. These homes were subsequently fitted with sculleries projecting onto the pavement, and survived until c.1960.
Greendykes Road Rows. Two apartment, two storey homes built c.1878. When photographed, these homes had already been modernised by fitting a scullery to downstairs houses, with similar facilities at the stairhead (on the opposite side of the block) for upstairs houses. Demolished c.1960.
Albyn Cottages (seen in the distance), a row of superior two apartment homes built c.1878 which are still extant.
Poynter's Row. A row of twelve simple single room dwellings built c.1864 and demolished c.1932.