Home
The story of Scotland's shale oil industry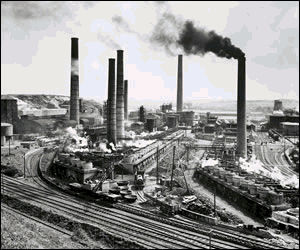 The Scottish shale oil industry has a remarkable and important history.
Bathgate Chemical Works, established in 1851, was perhaps the first site in the world where mineral oils were processed on an industrial scale. From this blossomed an extensive oil industry that competed successfully against cheaper imported petroleum for many years, and continued in operation until 1962. Such fierce competition bred innovation, progress, and a body of Scots know-how that contributed greatly towards the development of the oil industry throughout the world.
This website is being developed to celebrate, exchange knowledge, and encourage research into this special heritage. We hope that the resource will be of particular value to those researching family histories.
Genealogy
Research resources for family historians
A database of surviving company documents.
Descriptions of working life in the industry.
Inventors, entrepreneurs, and worthies.
Gazetteer
Records of sites associated with the shale oil industry
Covering all parts of Scotland.
In Scottish oil-shale districts.
In Scottish oil-shale districts.
Scottish influence throughout the world
Histories
Original papers offering an introduction to the industry
Its history, technology and geology.
Information files on each oil company.
Contributions from independent authors.
Collections
Catalogue of objects and archives held here and elsewhere.
The Scottish shale oil industry collection.
Company records now held by our museum.
Copy images and documents.
Other museum collections, surveyed 2009.
Library
Research resources available on-line
Archive publications as digital books.
Transcripts of interviews conducted 1983-90.
Extracts from newspapers and magazines.
Learning and sharing
Resources for schools and research noticeboard
Become a Shale Oil Explorer.
Presentations on the shale oil story.
Share your research enquiries and interests.
About us
Almond Valley is a family-friendly museum established in 1990 to preserve and interpret the history and environment of West Lothian. It also continues the work of an oil museum research project which, since 1983, had collected objects and archives associated with the shale industry. Download our collections development policy.
Much of the collection is now displayed in The Scottish Shale Oil Museum; one of a range of educational and leisure facilities at Almond Valley, close to Livingston, West Lothian.
For further information on a great day out at Almond Valley visit our main web site.
We are a member of Industrial Museums Scotland and Oil Museums in Europe.
Latest work to the site
January 2016... Happy New Year !
Work continues on the the digitisation of oil company records from the BP collection. A new subject index has been created that provides a useful new way of browsing the archive.
Further pages on shale and coal oil production beyond Scotland are now available. Research progresses on the history of the shale oil industry in Dorset which pre-dates Young's patent. It's a fascinating tale of French ambassadors, secret deliveries of Scottish coal, inventors, alchemists, retail pioneers, and the science of sewage.
Latest digital resources
We've updated the Pumpherston Oil Company lease book (the last third was missing). It covers the years 1886-1895.Our dedicated volunteers are still working on maps and plans. It's a difficult process as they're often too big for our scanner so we 'stitch' them to make a single map. We think the effort is worth it.
We've now added George Grant's process book. Grant was the senior chemist at Pumpherston Oil Company. It includes some weird and wonderful experiments, not all shale related. Some thoughts on Grant by one of his subordinates (starts on page 3).